Eliminate Blackheads Easily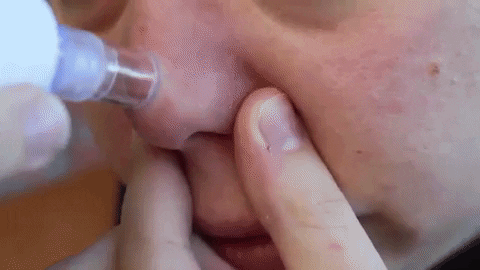 The Blackhead Remover Facial Pore Cleanser Device easily removes blackheads using gentle micro-suction technology all while reducing the size of your skin's pores. By penetrating deep below the skin's surface, the pores are rid of excess oil and dirt, making your skin cleaner and smoother.
The PoreVacuum Facial Pore Cleanser is the newly invented solution to shrinking large, oily pores. 5 replaceable suction heads are included in this set, ensuring that it works for all types of skin! Everyone is sick and tired of large pores and blackheads!
BENEFITS:
Effectively minimizes the appearance of large pores and helps to remove dirt that causes acne & blackheads.
Pores are rid of excess oil and dirt, making your skin smoother and cleaner.
Easy to clean, simple to operate, portable for home or travel use.
Improves skin tone and pore appearance.
Light weight and compact to put in your cosmetic bag, use anytime and anywhere!
Steps for usage:
Export blackheads
First Use warm water to clean the face before use, then apply a hot towel to the face or use a steaming machine to heat the face for 5 to 10 minutes. Wait until the pores are open before using it.(if you have Blackhead export essence, you can apply it on the nose for about 5-10 minutes)
Suck out the deep blackheads Adjust the gear that suits you, move slowly on the skin, do not stay in the same area for too long
Shrink pores
Finally, apply Pore Care Essence for about 15 minutes to shrink the pores.
There are 3 gear positions that can be adjusted:
The small round head is used for sucking blackheads and is especially suitable for fragile skin. The suction is weak.
2 The main effect of the big round head is also remove the blackhead and acne, but the strength is larger than the small round hole. So strawberry nose and some oily skin use this.
But be careful not to stay in one place for too long, otherwise it will cause bruises.
3 Elliptical head for reducing fine lines: You can quickly pull it out after sucking the skin, then suck it up and then pull it out. It can effectively remove fine lines.
4 Sanding head, microcrystalline holes: The dead skin can be removed by means of edge grinding
Package content:
Oval probe x 1
beauty device x 1
USB charging wire x 1
Operation manual x 1
Small Pointed probe x 1
Microcrystalline probe x 1
Big size circular form probe x 1
Small size circular form probe x 1
Silica gel ring x 2 Sponge